How To Draw An Art Palette and Paint Brushes with this how-to video and step-by-step drawing instructions. Easy drawing tutorial for beginners and kids.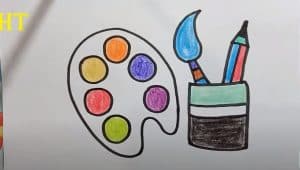 Please see the drawing tutorial in the video below
You can refer to the simple step-by-step drawing guide below
Step 1
First we draw a circle shape like a piece of cake being bitten into a piece.
Step 2
then we draw small adjacent squares on the cake to form different colored squares.
Step 3
Next to the drawing tray, we draw a cup containing drawing tools such as feathers, brush pens…
Step 4
The last step is that you color to complete the drawing.